The Challenge
Like many structural steel fabricators, Pepper Tank and Contracting Company in Casper, Wyoming, is constantly working to improve their efficiency so they can take on more projects, but their progress was hampered by bottlenecks in the loading area and challenges in training new talent.
The Solution
A new 3D load planning product from SDS2 brought Pepper Tank time savings they didn't know they were looking for. With SDS2 Load Planning, they were able to reduce their loading time an estimated 25-50 percent, even after hiring a new forklift operator.


SDS2 Advantages
Reduced loading time 25-50 percent
Sequence loads to handle erector requests
Optimize loads and decrease number of trailers used
Easier training for new forklift operators
Raise your hand if this sounds familiar.
You have a steel project in your shop ready to load and ship. Load list in hand, you start with the basic stuff, easily matching beam sizes, flange widths, and column heights, and everything is going smoothly.
But then you're faced with a one-off beam with large knife plates, some awkward stair stringers, and roof frames all varied in size.
Now you're realizing that your remaining steel isn't going to fit on the trailers you budgeted for, and you'll have to either:
A) unload a few trucks and try to work some mix-and-match magic, or
B) order in some extra trailers and hope they arrive in time to meet your deadline.
Work Smarter with Material Handling
It's an all too familiar story for many structural steel fabrication shops. Even the most organized and streamlined operations can start to look messy when it comes to loading and delivering projects.
So it was for Pepper Tank and Contracting Company, a shop in Casper, Wyoming. Established in 1940, Pepper Tank services a variety of industrial and architectural projects from their 14-acre facility.
"For loading, we'd basically fabricate and paint the job, letting it all accumulate outside, and then one piece at a time, pick it up and put it on the trailer," said Kody Fox, project manager and estimator at Pepper Tank.
"Usually, the first half of the job went pretty well," he said. "It's easy when you have a whole job to match beam sizes and flange widths. But once you get to the ugly stuff at the end—that was a big issue."



Then Wyoming Linz, one of their regular detailing partners, tipped them off to a new kind of software that would let them plan out their loads in a 3D modeling space using the project's IFC model. Instead of a simple load list, they could deliver a detailed map for their loader to follow.
That software was SDS2 Load Planning, a game changing product that's saving fabricators time and money in an area that's previously been left out of the construction tech game.
As a company with a lot of young, tech-savvy talent, Pepper Tank often looks to technology to boost their efficiency. Seeing an opportunity in SDS2 Load Planning to optimize another facet of their operations, they took it, and it hasn't disappointed.
Since they adopted the software last year, Fox said it's been a big help in planning and sequencing loads.
"SDS2 Load Planning has probably reduced loading anywhere from 25-50 percent, depending on the job," Fox said. "If it's a complex job with a lot of goofy stuff, it's going to reduce it a lot more."
"Can Every Job Be Like That?"
While introducing new or different software into your workflows is often a headache, Pepper Tank's implementation process with SDS2 Load Planning was quick and easy.
"It's pretty user-friendly," Fox said. "Within the first couple of jobs I had it pretty well figured out."
Their workflow is simple, too. "I just build the load maps and put them on the tablet for our forklift operator," Fox said.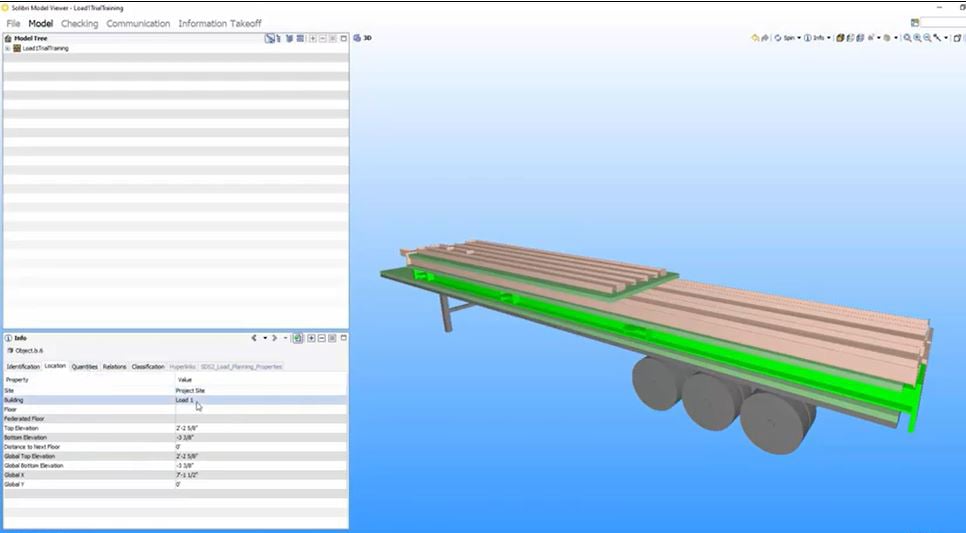 Example 3D load map created in SDS2 Load Planning. Trailer models can be viewed in SDS2 Load Planning
or any IFC viewer of choice.

As a bonus, they've found it much easier to accommodate erector requests. For example, if they need a certain section of a building delivered first, Pepper Tank can simply select that section in the building model, plan out the load quickly and efficiently, and execute.
For one recent project, their forklift operator was able to load out the entire job in about a quarter of the time it would've taken the old way.
"He had the whole job loaded in about three hours when it probably would've taken him a day, day and a half," Fox said. "That's when the forklift operator came to me and asked if every job could be like that."
Maintaining Efficiency Through Change
It's worth noting that their forklift operator is new to Pepper Tank, hired within the last six months after their previous operator left, taking his years of expertise and loading knowledge with him.
(Raise your hand if this sounds familiar).
Finding and training new talent in any position is going to take time and cut down on efficiency in the short-term, but for a niche skill like operating a forklift, the challenge is even greater.
"That's one of our bigger challenges," Fox said. "You get a system worked out, and then somebody leaves. You can train a welder to read blueprints pretty easily, but very few people are trained to load structural steel on trailers."
With a 3D tool like SDS2 Load Planning, their training has been much easier. Instead of high-stakes, labor-intensive practice, it becomes a matter of following directions, much like the welder learning to read blueprints.
"It's much easier to say, 'make it look like this picture,' than to actually show them how to load the truck," Fox said.
By implementing SDS2 Load Planning, Pepper Tank has been able to handle change with minimal disruption and continue working to maximize their efficiency.
Fox said they use it on every job they can.


---
ABOUT PEPPER TANK & CONTRACTING COMPANY
Established in 1940, Pepper Tank and Contracting Company specializes in structural steel fabrication in oil and gas and industrial sectors, as well as miscellaneous architectural products. They provide estimating, detailing, and project management. Located in Casper, Wyoming, their facility encompasses 14 acres with 33,000 square feet of shop space.