"Like trying to detail a roller coaster."
That's how James Adams, Jr., vice president of Adco Detailing Inc., described the Whiting Forest of Dow Gardens Canopy Walk, which won first place in the 2020 SDS2 Solid Steel Awards in the commercial, small tonnage category.
The elevated and handicap accessible walkway winds through the trees of Whiting Forest of Dow Gardens in Midland, Michigan, rising up to 40 feet above the ground and overlooking 54 acres of forest trails, ponds, meadows, and an apple orchard. Measuring 1,400 feet long (or about ¼ mile), it is the longest canopy walk in the nation.
All told, 2,720 tons of steel and 2,890 bolts were used in the walkway's construction, and almost every bit of it was nonstandard.
"We've done a couple of [walkway] jobs before over grasslands, but those were straight, L-shaped structures. This was curvy, meandering, up and down," said Alvin Stepan, a senior detailer at Adco.
"There were hardly any straight pieces," added John Adams, the company's president.
Rolled columns and spiraled, twisted handrails—all set at irregular angles—added further challenge to the project. "Each individual post had to be a certain angle," Adams said.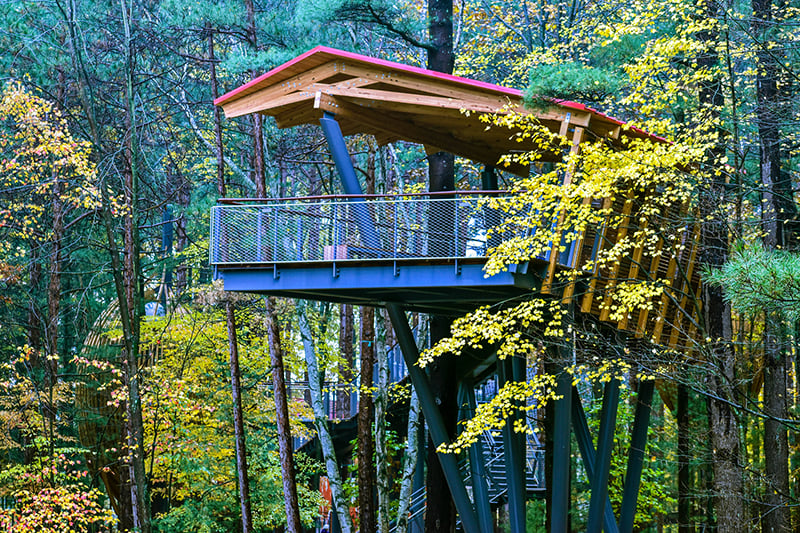 Outlook platform on the Whiting Forest of Dow Gardens Canopy Walk
All About the Trees
Intended to draw people into a sensory and exciting experience with nature, sustainability was a critical component of the project. According to Dow Gardens, only six trees were removed throughout construction.
"We would get so much done, and they would come back with a tree that they didn't see, so we'd have to make cutouts in the steel or frame steel around the tree so they wouldn't have to cut it down," Adams said. "There were intricate data points, stuff we've never had to deal with before."
"Without the help of Adco, it would have been most difficult to construct a project with no straight lines or edges, built in the middle of the forest without touching any trees," said Jamie Kaufman, an owner of Magnum Construction Company, Inc., the project's fabricator and erector.
Whiting Forest of Dow Gardens Canopy Walk. Photos courtesy of Herbert H. and Grace A. Dow Foundation.

From Design to Construction in 3D
Adco managed the complicated project in SDS2 with a lot of manual detailing and data imported from the supplied Autodesk Revit design model.
Adco has been an SDS2 customer since the company began in 2003, and Adams and Stepan have been users for even longer. The company, located near Forth Worth, Texas, has grown from four employees to ten, and they're looking to expand.
"Working with Adco on this project gave us the best chance of success," Kaufman said. "They provided us with additional work lines and working points to help in the fabrication process."
The dynamic environment and design challenges required constant contact between Adco and Magnum.
"The 3D model was updated weekly and provided to the engineering firm and project team as part of our progress reporting," Kaufman said. In addition to modeling the steel, he said they also included trees that were in close proximity to the walkway to aid the design team in conflict resolution.
Given the complexity of the project, Magnum relied heavily on the SDS2 model in both fabrication and erection.
"This is the first time we had used SDS2 Viewer in the shop," Kaufman said. "This greatly aided in the fabrication process because the fabricators could look at the segments and add any measurements that they felt they could use. We also loaded the model on a tablet that was used at site progress meetings and in the field."
A Lasting Success
Dow Gardens held its grand re-opening of the Whiting Forest with the new canopy walk and two pedestrian bridges in October 2018 with record-breaking attendance of over 30,000 people in its first week.
In addition to being a grand prize winner in SDS2's Solid Steel Awards, the project was also recognized with several architectural awards, including the 2020 American Architecture Award from the European Centre & The Chicago Athenaeum.
For Kaufman at Magnum, it was a crowning achievement—he delayed his retirement to see all phases of the project complete.
"It was a fun project because it was something different," Adams Jr. said, but the Adco team agrees they aren't in a hurry to repeat the experience—and certainly not the two heart attacks suffered by team members (both now recovered!) during the course of the project.
Their upcoming projects, including a Marriot hotel and an elementary school, are a little more straight-edged.
They aren't completely ruling out such challenging projects for their future, however.
"Maybe eventually," they said. "We'll have to see how the new SDS2 handles it."