Beneath the eye-catching glass and concrete façade of the new Morrow High School complex near Atlanta, Georgia, is an impressive steel structure detailed by SDS2 customer Mold-Tek Technologies.
The project won Mold-Tek the 2021 Solid Steel Award in the Commercial – Large Tonnage category. Mold-Tek is no stranger to award-winning projects. They also took home the Customer's Choice Award in 2021 for their work on the Taylorsville Utah Temple, and in 2019 won second place in the Commercial – Small Tonnage category for the Parkview Health Core Tower Expansion.
The Morrow High School project highlights the type of work Mold-Tek is known for, with complex geometry inside and out, tight delivery schedules, and clever use of SDS2 to get the job done.
"We definitely recommend SDS2 software over others. It is user friendly and saves a lot of time in 3D modeling, designing connections and other material attachments, and handling large projects."
Project Overview
The new Morrow High School is one of the largest and most expensive high schools in Clayton County, Georgia, coming in at 350,000 square feet and a construction price tag of $80 million.
Designed by the prominent architectural firm Perkins & Will, the building is striking with modern curves and angles. The campus includes a long, S-shaped academic building designed to maximize natural light and an indoor sports arena with a suite level, connected by an interior footbridge on the second story.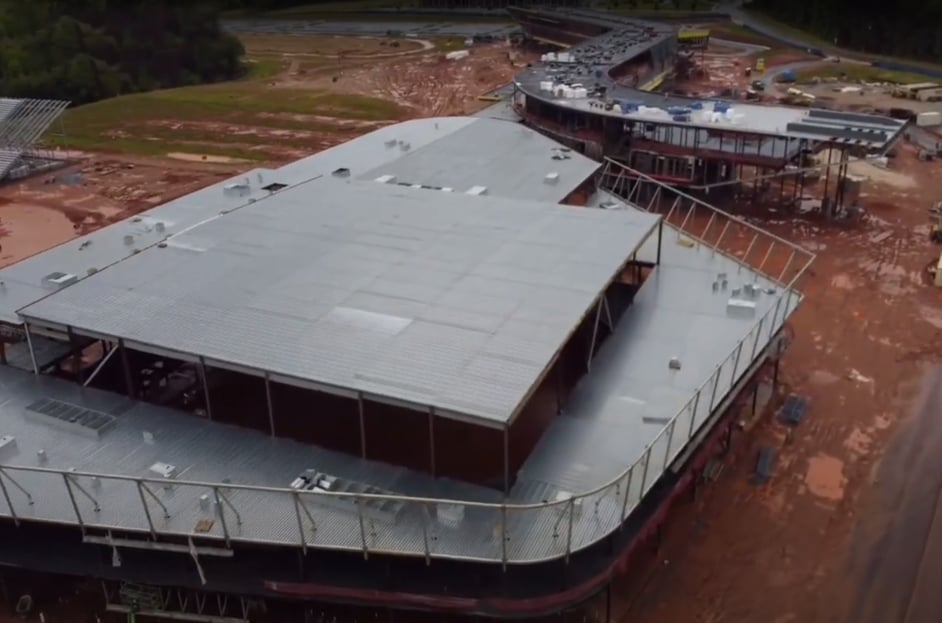 Morrow High School Site Photo, Courtesy of Mold-Tek Technologies
Managing Schedules and Dual Shop Preferences
Mold-Tek worked with the fabrication teams at Stein Steel and E&H Steel Corporation to complete the detailing for the project in 23 sequences over the course of 24 weeks. To meet the erection schedule, approval and fabrication releases occurred in parallel, and the job was distributed across multiple shops for fabrication. This put extra pressure on the steel detailing team to release drawings and satisfy different shop preferences simultaneously.
For example, one fabricator asked for detail sheets even when details were on hold, and for CNC operations, one fabricator preferred saw length while the other wanted the final length.
"The fabricator settings in SDS2 helped us a lot to meet each fabricator's expectations," Gite said.
SDS2's design engine is built on fabricator preferences, with extensive project settings that can be tailored for each job and fabricator. This makes it easy for detailers to meet fabricators' expectations on everything from connection design to drawing delivery throughout the project—even when switching between multiple fabricators.
Another area where SDS2 helped save Mold-Tek time on the project was in the automated connection design. SDS2 automatically provides connections and expanded calculations for more framing conditions than any other software one the market. Despite the structure's complex geometry, Mold-Tek estimates that around 80-85 percent of the connections for the main steel were done in SDS2, which cut down on their detailing time for the main steel by around 75 percent and another 30 percent on RFIs.
Structural Challenges
In addition to the tight scheduling and fabrication challenges, the project featured a number of structural challenges for the Mold-Tek team.
Inside the building, sixteen staircases were required on the project, including spiral stairs, circular stairs, a grand staircase with alternating flight widths, and more.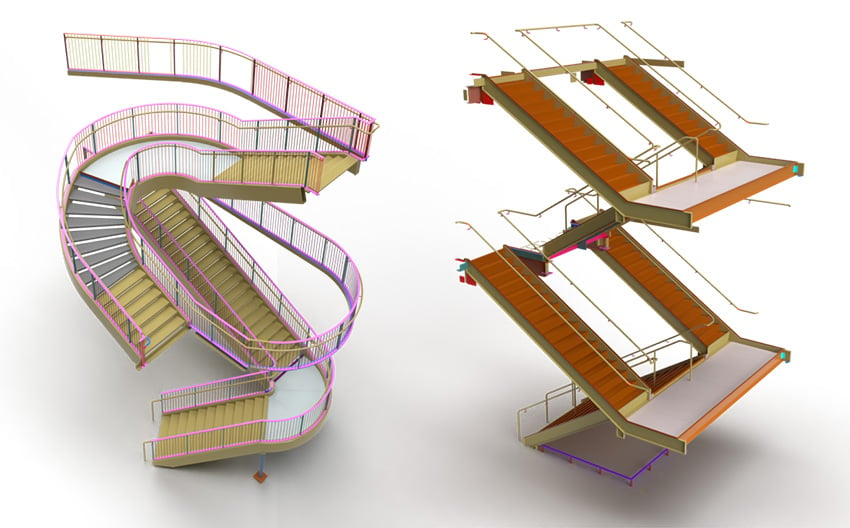 Two of the staircases modeled for the Morrow High School project


For many of the exposed staircases, the architectural designs called for limited supports to avoid having visible supporting members. The spiral staircase, for example, featured an intermediate landing supported by a single tapered and cantilevered beam.
"SDS2 helped a lot in modeling the miscellaneous steel, including the curved stairs and their railings," said Mold-Tek's Amol Gite.
On the structure's exterior, striking architectural features made for more challenges. Kinked beams were framed into upturned beams. Parapet supports around the sports facility were detailed with both radial and skewed framing, and each end of the long educational facility was punctuated by a hanging support system.
From the main structural steel to the many miscellaneous details, Mold-Tek relied on SDS2's modeling and detailing capabilities to deliver.
"We definitely recommend SDS2 software over others," said Gite. "It is user-friendly and saves a lot of time in 3D modeling, designing connections and other material attachments, and handling large projects."
Mold-Tek is a global company providing detailing for structural and miscellaneous steel, along with engineering and other services, including steel connection design and delegated design. Headquartered in Atlanta, Georgia, they have offices around the globe in India and Germany.