THE DELOITTE SUMMIT TOWER:
A SUPERMĒTAL STRUCTURES PROJECT
The Challenge
From designing connections to overcoming construction challenges, the Deloitte Summit building's complex geometry and stacked-cube design required high levels of coordination and design ingenuity from Supermétal Structures, who not only fabricated the building's steel structure, but also designed, detailed, and erected it over the course of two years.
The Solution
Supermétal Structures, Inc. used SDS2 to coordinate their teams at every stage in the project. The 3D model was a critical communications and management tool, giving them confidence in their teamwork.
At 24 stories and 301 feet tall, the Deloitte Summit office tower at 410 West Georgia Street may not be the tallest building on the Vancouver skyline, but it is certainly among the most unique.
The office building, developed by Westbank and Allied and soon to become Deloitte's new Vancouver headquarters, is comprised of four-story cubes stacked at various angles around a concrete core. The glass façade and glass floors, accented by vertical green spaces, will offer sweeping views of Vancouver's fast growing downtown central business district.
Construction will conclude in summer 2021, marking a notable achievement for Supermétal Structures, Inc., who not only fabricated the building's steel structure, but also designed, detailed, and erected it over the course of two years.
"It was a very intense and very complex project, but we made it!" said project manager Pier-Luc Napert.
From the earliest planning stages through construction of the structure, the building's complex geometry required a level of coordination and design ingenuity that the team is unlikely to forget for the rest of their careers.
All hands on deck
What exactly made this project so complicated? It wasn't just a matter of size—coming in at 5,000 metric tons (or approximately 5,500 US tons), the project was medium-large for Supermétal, with their largest current projects totaling up to 18,000 metric tons.
The building's geometry and stacked-cube design created unique challenges throughout the project. For the Supermétal engineering team, for example, this meant designing incredibly complicated connections to handle elements like the transition floors, where the cubes met at odd angles every four stories.
"There's a lot of axial forces in the floors," Napert said, "and we had to design numerous major splices to transfer the forces from the trusses to the concrete core."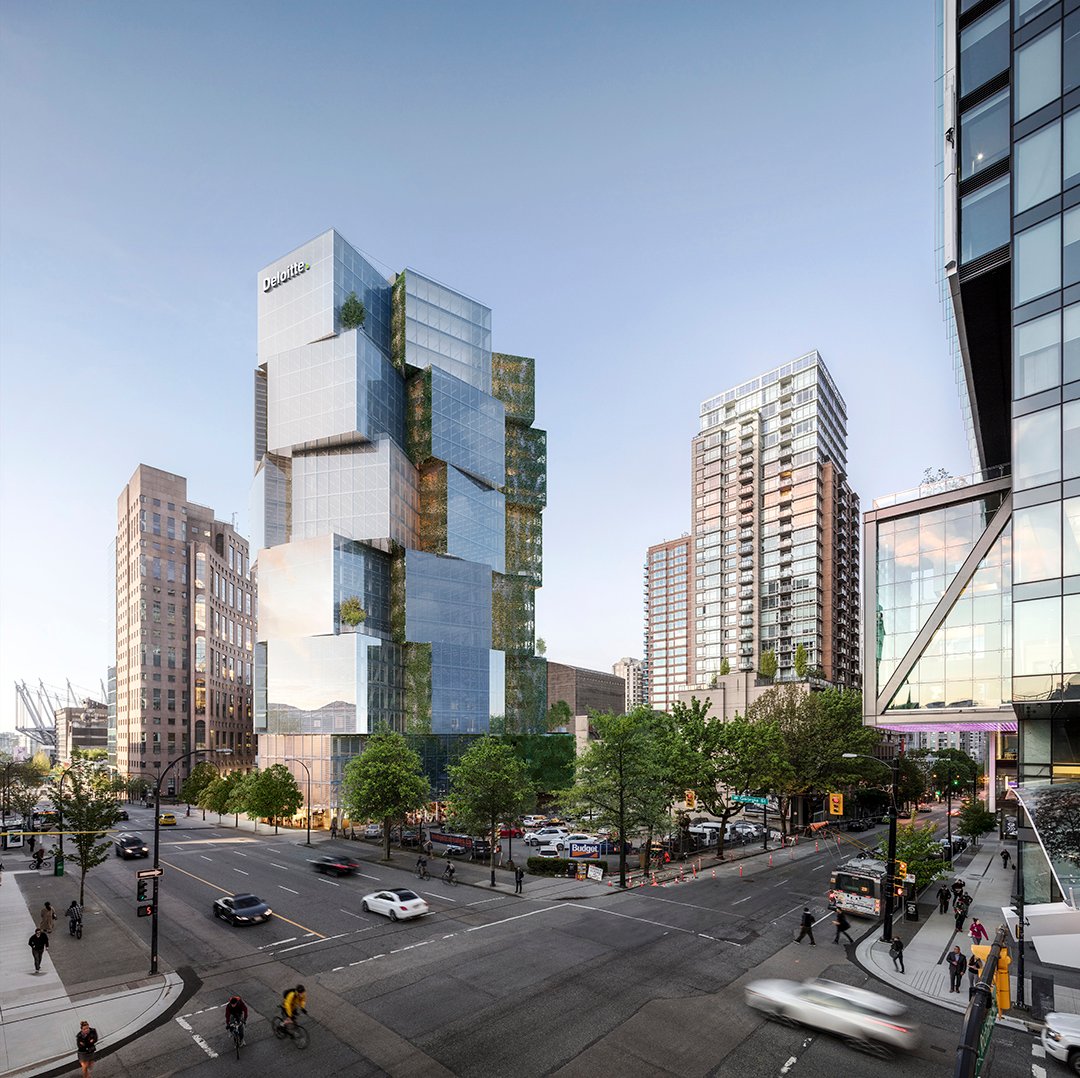 Photo courtesy of Westbank
In addition, while most high-rise buildings are erected story-by-story, 410 West Georgia had to be built cube-by-cube. "We had to build the exterior members of the cubes and then do the infill. It added a lot of complexity in the sequence of work," Napert said.
Serge Neron, Director of Steel Detailing for Supermétal, said they frequently turned to the 3D modeling capabilities in SDS2 to analyze the structure and design the connections. "I cannot imagine doing it without a good tool in 3D like SDS2," he said.
A fast-tracked project schedule added further challenges to the project.
Detailing, fabrication, and construction for different sequences were often running in parallel. Supermétal detailers worked day and night between their offices in Canada and the Philippines, transferring the SDS2 project from their server in Quebec to Manila on a daily basis. Fabrication, too, was coordinated between three of Supermétal's shops in Canada.
"It was really a team effort," Napert said. "We used all of our resources."
Photos courtesy of Supermetal Structures
Collaboration and Coordination in 3D
Estbablished in 1959, Supermétal is a leader across Canada for complex commercial projects with high levels of coordination. Making it to the finish line on 410 West Georgia came down to their dynamic teamwork, consistent collaboration, and the success of their SDS2 model.
The first months of the project were a highlight for Neron. Bringing their teams into alignment, working through connection design and sequencing, coordinating with mills to handle huge steel solid blocks—all told, the planning took nearly half a year.
"That's something you'll remember your whole career," Neron said.
Throughout the entire project, SDS2 was a unifying tool for Supermétal, from the project manager and design team to the detailers and the project engineer on site.
"SDS2 made us confident in our teamwork," Neron said. "We could see the progress and track the real status all the way to the job site."
As project manager, Napert said he relied on the software to see what was coming up, ensure that everything would fit together during construction, and collaborate with stakeholders.
"I used SDS2 almost every day for coordination purposes or to show things to the client," Napert said.
The 3D model, created in SDS2 and shared externally as an IFC file, was critical in communicating with other stakeholders to incorporate the steel with other trades and work through design challenges like tight ceilings, complex curtain walls, and construction methods.
"There were challenges everywhere," Napert said.
But seeing it all come together and take shape on site made it all worth it.
"When you walk on site and see the building going up," he said, "and you see what you've been looking at for so long in the 3D model—that's the best part."
---
About Supermétal Structures, Inc.
Established in 1959, Supermétal Structures, Inc., supplies, designs, fabricates, and erects structural steel for projects in all sectors. The Canadian-based company has fabrication shops in Levis, Sherbrooke, Edmonton, and Montreal, with a combined annual production capacity of 40,000 metric tons. They've been an SDS2 customer since 1997.
The Deloitte Summit project won the 2020 Solid Steel Competition Grand Prize in the Commercial, Large Tonnage category.