Massive connections. Elaborate technical details. Incredible axial loads.
Temples, high schools, energy plants, music halls.
The 2021 Solid Steel Awards have it all, showcasing the best work done in SDS2 in the past year.
The award winners were announced earlier this month at SDS2 Summit in St. Pete Beach, Florida. Judged on aesthetics, complexity, and overall cool factor, the competition highlights the great range of work our users are doing and the projects they're bringing to life in all sectors of structural steel.
Here's a look at this year's winning projects and finalists.
Customer's Choice Award
Mold-Tek Technologies Inc. - Taylorsville Utah Temple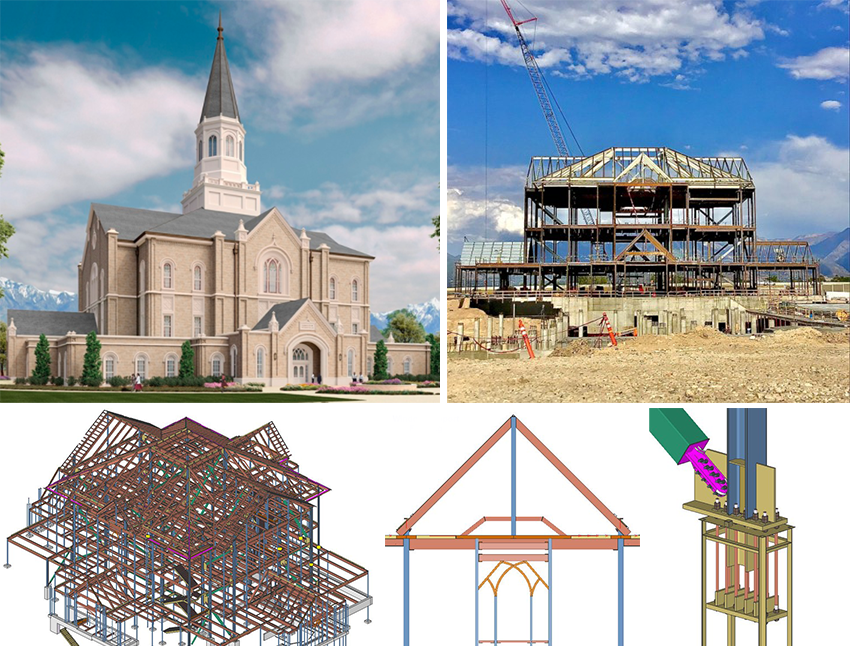 Four pitched roofs with several hip and valley configurations, heavy anchor bolts with anchorage frames, and CoreBrace BRB connections were some of the highlights of the 2021 Customer's Choice winner, a three-story, 70,000-square-foot temple in Taylorsville, Utah. This 800-ton project was detailed by Mold-Tek Technologies Inc. on a tight 15-week schedule. Despite numerous RFIs, Mold-Tek was able to deliver on time thanks to SDS2's 3D tools, including the specialized CoreBrace plugin that allowed them to detail proprietary connections quickly and error-free, as well as 3D coordination with other trades.
Commercial, Large Tonnage
GRAND PRIZE: Mold-Tek Technologies Inc. - Morrow High School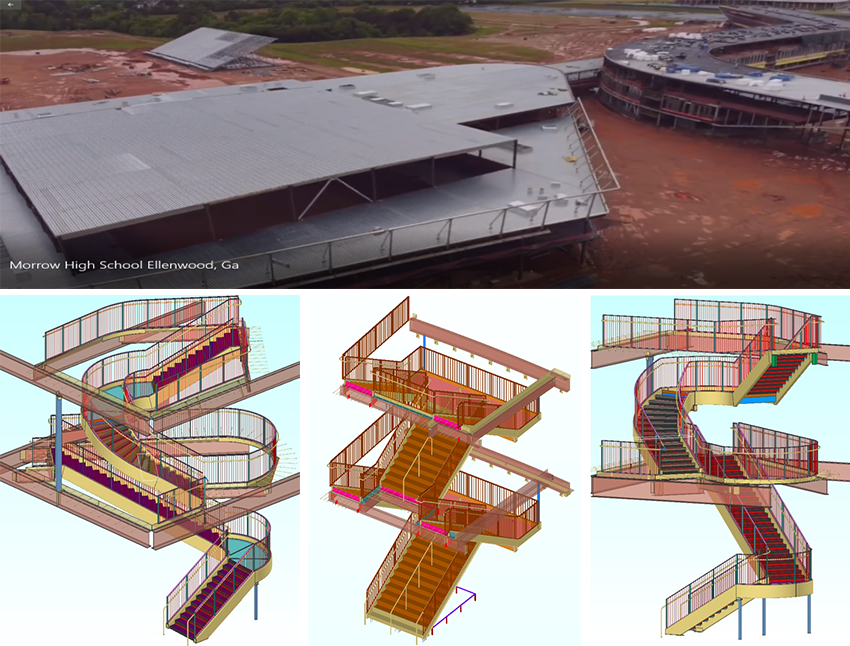 Mold-Tek took home another victory in the Commercial, Large Tonnage category for their work on Morrow High School in Georgia. Designed by Perkins + Will architects, the multi-building project encompassed educational and sporting facilities and featured 16 staircases, including spiral stairs and circular stairs. Other structural challenges included radial material attachments, elevator guide rail tubes and hoist way beams, parapet framing, and more.
The 2500-ton project was completed in 23 sequences, with drawings delivered to multiple fabrication shops. The topping out ceremony was held in February 2021.
SECOND PLACE: American Steel Detailing, LLC. - Bobover Yeshiva Bnie Zion

Massive and complex connections were the highlight of the Bobover Yeshiva Bnie Zion rabbinical college in Brooklyn, New York, detailed by American Steel Detailing, LLC. Much of the challenge stemmed from the structure's cellar level, with varying floor slab elevations and many skewed, axial-loaded beams framing into columns at various angles. In places up to four beams framed into a single column node, and some connection nodes with moment plates and shear connections hosted upwards of 200 one-inch bolts.
The team at American Steel Detailing was surprised to find that the structural and architectural drawings weren't initially done in 3D, but throughout the project they used their 3D SDS2 model to collaborate with the design team, especially when it came to the uneven cellar floor.
Commercial, Small Tonnage
GRAND PRIZE: Aarbee Structures Pvt. Ltd. - University of Miami Knight Newman Recital Hall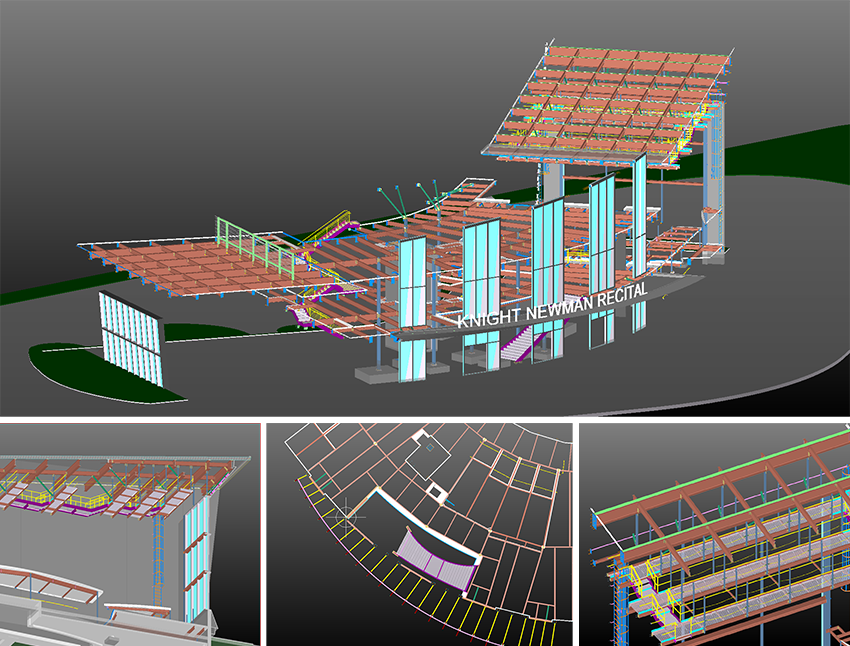 A cantilevered performance hall at the edge of a lake created interesting geometrical challenges for Aarbee Structures Pvt. Ltd. Their work on this 160-ton architectural project won them the grand prize in Commercial, Small Tonnage category. A segmented curve with tilt-up panels along the sides of the building required numerous skewed end connections. With SDS2's custom embed plate, they were able to achieve these connections without any manual work.
Other cool features for the project include an exterior canopy around the segmented curve of the building with three different radius points and a hanging steel catwalk supported by the roof.
SECOND PLACE: International Design Services, Inc. - Mueller Office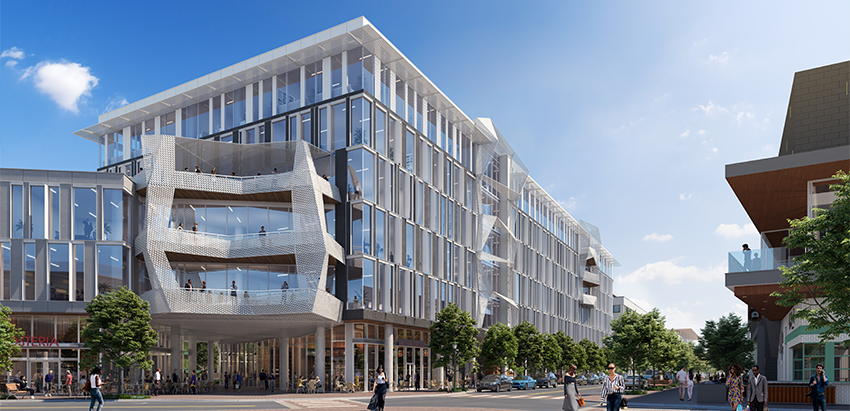 International Design Services, Inc., tackled complex balconies, a canopy roof, and a pedestrian bridge for this 326-ton project, a six-story office building in one of the fastest-growing communities in Austin, Texas. The Mueller Office (Alpha Building) will offer 210,000 square feet of office space, as well as a 26,000-square-foot retail space on the ground floor. The project broke ground in late 2019. Three more buildings are planned to complete the development.
International Design Services used SDS2 automation for all shear connections in the project. For the project's many pipe railings on the stairs and balconies, they used the fit exact command to design connections, sending both STP and 3D DXF files from SDS2 to the shops for fabrication.
Industrial
GRAND PRIZE: PROZTEEL - Gas Plant, Northern Canada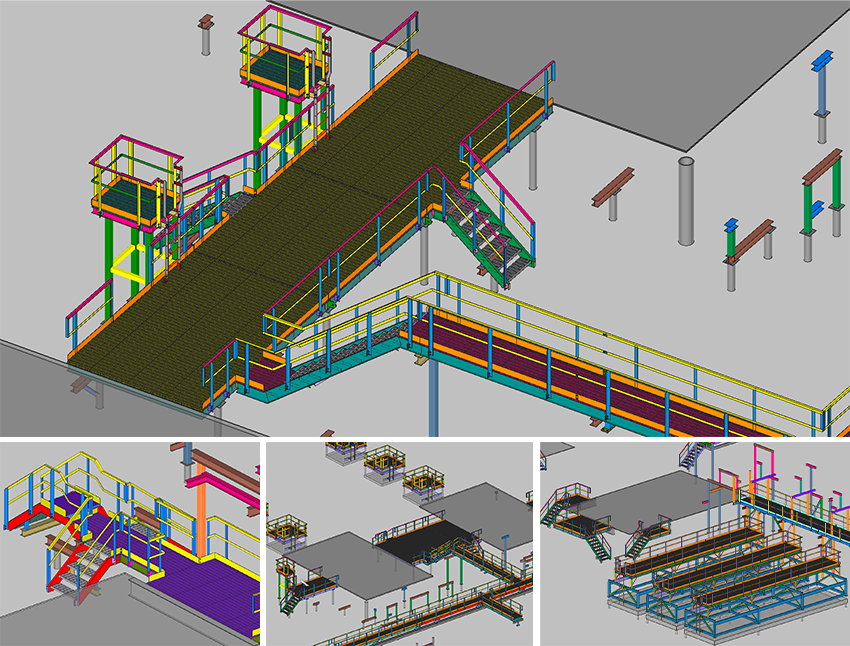 This natural gas facility in British Columbia marked the first project for PROZTEEL with a major new client who had never worked with SDS2 before. They allowed PROZTEEL a test run with SDS2 on a small phase of the project. Impressed with the efficiency and speed, they approved PROZTEEL to complete the entire job in SDS2.
The 180-ton project featured a 160-meter catwalk, along with several staircases and ladders. While the project involved a lot of miscellaneous work, PROZTEEL also utilized SDS2's stair add tools and automated piece marking to deliver with accuracy on the fabricator's timeline.
SECOND PLACE: VectorShades - Associated Electric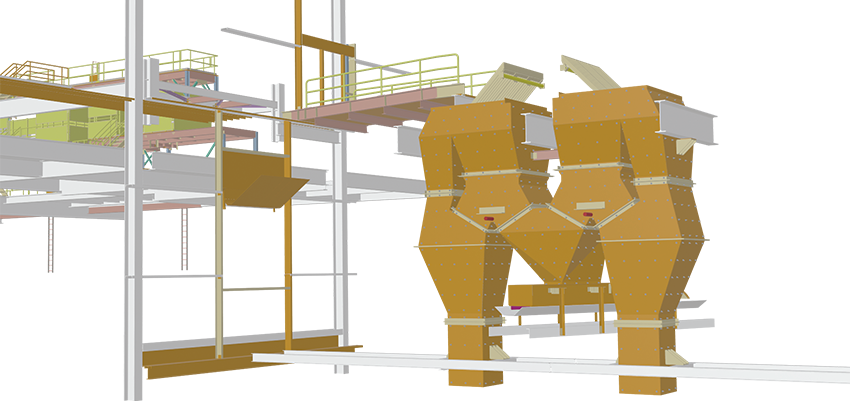 Rounding out our list of Solid Steel Award winners is a 130-ton dry ash conversion unit detailed by VectorShades. The addition to an existing power generation and transmission system facility featured large amount of miscellaneous steel, most notably a discharge chute made up of multiple plates in different planes welded together. Other unique features included wind curtain support steel and guard rails over seven feet tall with metal mesh attachments.
Finalists
KMA Steel - OJC Outrun Addition
Cartee-Berry & Associates - Multipurpose Event Center
SDI Inc. - Steam Plant
Streamline Design Solutions, Inc. - Lakeshore Pumpkin Copper Mine