The Olympic Winter Games feature some of the most daring and death-defying stunts in the world of sports. Athletes in bobsledding, skeleton, and luge will reach speeds of over 90 mph down a mile-long ice track. Going through hairpin turns, they'll experience more G-force than an astronaut during a rocket launch. And out on the mountain, ski jumpers will go from 0 to 60 in three seconds flat so they can fly the length of a football field through the air.
When the teams at KMA Steel and Jeffords Steel and Engineering turn on the 2022 Winter Olympics this year, they'll know a little something about what goes on under the ice to make such amazing feats possible.
Gold Medal Opportunities
Over the past several years, the SDS2 customers have worked on two state-of-the-art winter sports facilities in Lake Placid, New York, home of the 1932 and 1980 Winter Olympics. The upgrades were part of a $74 million investment meant to reestablish the site as a world-class winter sports hub for years to come.
The first was the impressive Mt. Van Hoevenberg Mountain Pass Lodge, described by New York's Olympic Regional Development Authority as the "centerpiece" of all the Lake Placid upgrades. The three-story structure, perched on the side of a mountain, encompasses the United States' only indoor push-start facility for bobsled and skeleton.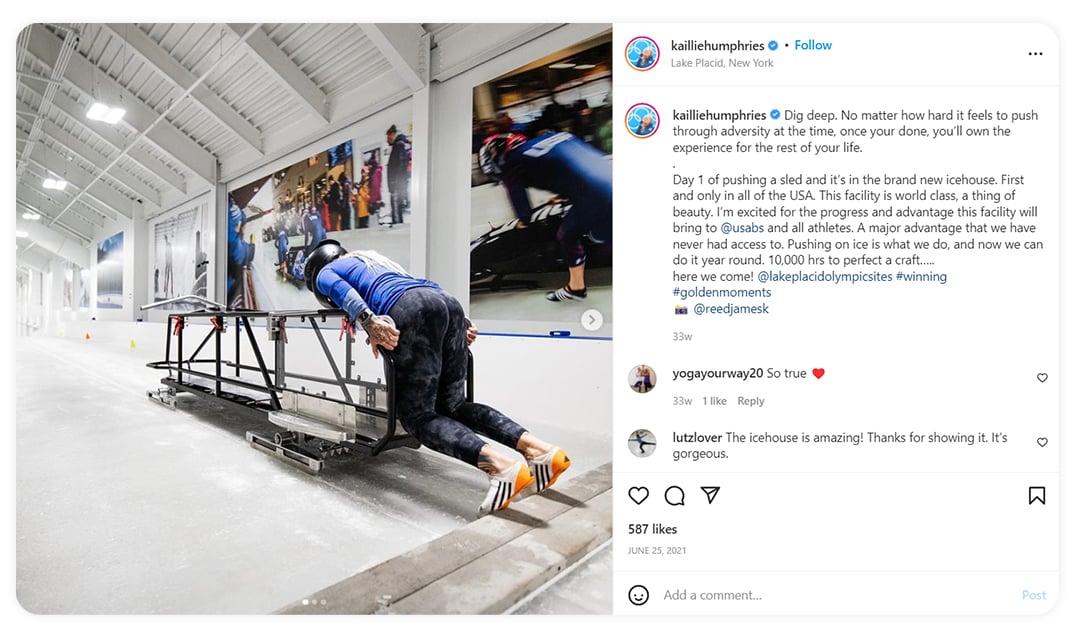 US Olympian Kaillie Humphries posted a photo of herself at the Mt. Van Hoevenberg indoor push track facility in June 2021, saying "Day 1 of pushing a sled and it's in the brand new icehouse. First and only in all of the USA. This facility is world class, a thing of beauty. I'm excited for the progress and advantage this facility will bring to @usabs and all athletes. A major advantage that we have never had access to. Pushing on ice is what we do, and now we can do it year round."

Humphries went on to win gold for Team USA in the first ever women's monobob competition at the 2022 Winter Olympic Games in Beijing. Her teammate Elana Meyers Taylor took home the silver.
---
The second was a reconstruction of an Olympic ski jump, now the only facility in North America equipped for both summer and winter training and competitions.
KMA landed the Lake Placid projects through their longtime collaborators at Jeffords Steel, a steel fabrication company in upstate New York.
Both projects were selected as finalists in the SDS2 Solid Steel Awards, in 2020 and 2021. Although the structures look very different, they presented similar challenges. And true to theme, they required Olympic-level execution, with dedicated teamwork, elite connection design, and breakneck speed.


Construction of the Mt. Van Hoevenberg Mountain Pass Lodge and Indoor Push Track in Lake Placid, New York.
Building the Dream Team
Having a strong team spirit is vital when it comes to challenging projects like the ones at Lake Placid, which required long hours and phone calls—many of them overnight—among the KMA team, Jeffords Steel, and other stakeholders.
"As a group, we've all laughed and cried together through these projects," said Sonny Schroeder, an owner and project manager at KMA. "And I mean as an entire group, from the erector and fabricator down through everybody."
KMA had assembled their dream team largely through cloud technology. Since 2018, they've been able to handpick their team from around the country. "We've been able to bring a lot of people we've worked with over the years back to KMA so we can work together again," said Brian Thompson, the detailing manager at KMA.
Talk to the KMA team for a few minutes, and you'll feel the camaraderie immediately. They couldn't speak highly enough of each other.
"Brian is one of the best I've ever seen in SDS2," said head detailer Josh Hawley. "And Sonny—when I say we were on the phone with him until seven o'clock in the morning, that's not an exaggeration. I may have done the majority of the modeling, but without these guys in their supportive roles, this project just wouldn't have happened."


Construction of the Olympic Ski Jumping Complex in Lake Placid, New York.
Perfecting the Connections
The primary cause of their many late nights and long hours on the project were the connections. With irregular geometry and highly rated ("hellacious," in the words of Hawley) axial and compression loads, they had to work closely with the engineering teams to make things work.
On the Mountain Pass Lodge project, where Jeffords Steel's president Jesse Ringer served as the connection engineer, they went the extra mile to make sure that SDS2 would produce calculations for as many connections as possible, and that they weren't merely graphical.
"Jeffords Steel always request that when they carry the connection design," Schroeder said. "They trust the connections in SDS2 and try to get the model to do as much as it can."
In the end, despite the extreme load requirements and irregular framing situations, they were able to provide SDS2-generated calculations for around 95 percent of the connections on the project.
For the team at Jeffords Steel, this was a huge time-saver. "We like to have the majority of connections, if not all, designed through SDS2," Ringer said. "It just saves so much time and energy when the detailing program can generate the calculations."
And with both of these projects, they needed all the time and energy savings they could get.
Racing the Clock
"All these projects at Lake Placid were done to bring the site up to world-class standards—and bring in world-class competitions," said Scott Savage, project manager at Jeffords Steel. Which meant that while the work was still in progress, high-profile competitions—like the US Olympic ski jump trials and a luge World cup that both took place in December—were already on the schedule. Delays were not an option.
"The contractor and the state of New York were demanding steel on site while we were getting final design drawings," Ringer said. "KMA did a very good job of keeping up with the pace. They would get details and updated drawings and implement those the same day or the next to keep the project moving."
The design complexities and intense timeline made for projects that were exciting to start, fun to look back on, and some combination of taxing and rewarding in between.
"This project offered a lot of things that as a detailer we can get giddy about, like the constant roof slope changes and crazy moment connections," Hawley said. "It can be a pain at the time, but it's rewarding."
Now, the fruits of their labor will be on display at Lake Placid for years to come and enjoyed by extreme athletes and tourists from all over the world.
"The cool thing is looking back and knowing that as a group—from the fabricators, detailers, and engineers to the erector and everyone in the middle—we made it happen," Schroeder said. "Now there's a beautiful building hanging off the side of the mountain. That's the real reward of it."
---
ABOUT KMA STEEL, LLC
KMA Steel started in 2018 when a group of friends with different experience in the steel industry decided to join forces to provide structural and miscellaneous steel detailing as well as estimating and project management services to their customers. Now they provide those services to over 30 fabricators and general contractors across the country, as well as fabrication for stair, rail, and other custom projects.
ABOUT JEFFORDS STEEL AND ENGINEERING
Jeffords Steel is an AISC Certified, full-service steel fabrication company that engineers and erects structural and miscellaneous steel for construction projects throughout Northern New York, Vermont, New Hampshire, and Massachusetts.