Every year, the SDS2 Solid Steel Awards give steel detailers an opportunity to show off their best work. Judged on aesthetics, complexity, and overall cool factor, the competition highlights the great work our users are doing and the projects they're bringing to life in commercial and industrial sectors.
An SDS2 panel judges the projects in three categories: small and large commercial projects (determined by tonnage based on all project submissions), and industrial projects. They also select finalists for the Customer's Choice award, which is then voted on by SDS2 users. The Customer's Choice award encompasses projects in any category and allows our community the opportunity to support and find inspiration in the creative and technical detailing work of their fellow SDS2 users.
This year's competition showcased a great range of office and residential buildings, recreational structures, and complex industrial facilities.
Creative, technical, and just plain awesome—here's a look at the winning projects and finalists.

Commercial: Large Tonnage
Grand Prize – 400 West Georgia
The 400 West Georgia project, located in an evolving district in Vancouver, British Columbia, Canada was detailed, fabricated, and erected by Supermetal Structures, Inc.
This 370,000-square-foot, 24-story, LEED® Platinum office building was conceived as playful aggregation of reflective yet transparent stacked boxes that contain four floors and are roughly square. The multiple orientations of the stacked boxes capture the sweeping views of the surrounding city while the spaces in between the cubes are filled with greenery. The stacked boxes create natural compartments within a continuous floorplate, allowing offices to be variously partitioned while also staying close to the façade.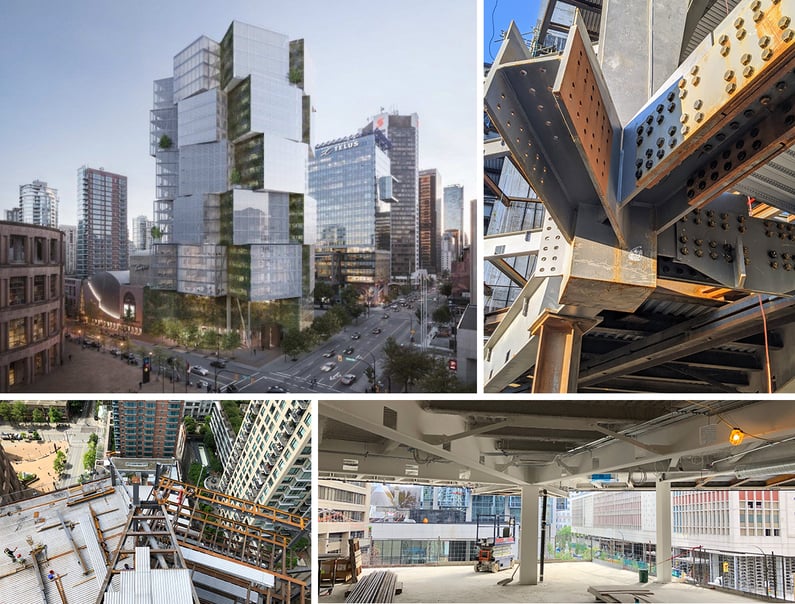 Second Place – Miami Cruise Terminal A for Royal Caribbean
This new state-of-the-art cruise terminal for Royal Caribbean, located in Miami, Florida, was detailed by The Steel Detailers, Inc.
Designed to surpass every adventurers' expectations from the very first moment, Royal Caribbean is pioneering the industry's fastest, smoothest guest check-in, with a quick bag handoff and "car-to-bar" experience in a matter of minutes.
The building presented many challenges, especially it's geometry. Designed to resemble a futuristic cruise ship from the outside, it had many different sides to the building's end walls as well as the roof. Cruciform columns support the exterior of the massive building. To deliver an open atmosphere, there were no vertical braces on the project, and the lateral loads had to be transferred with fully welded moment connections as well and bolted moment connections.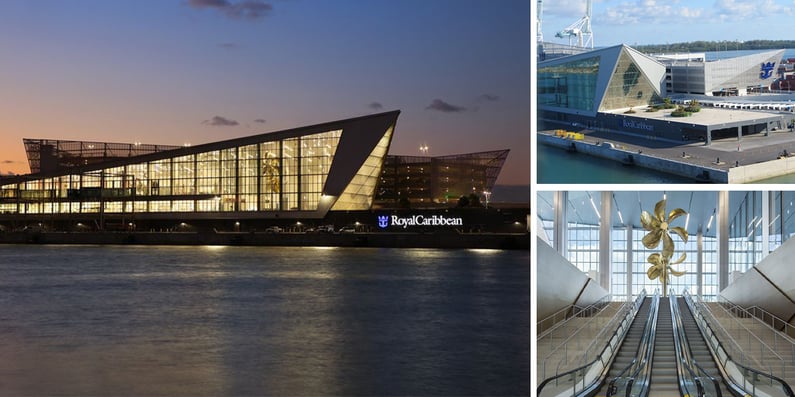 Commercial: Small Tonnage
Grand Prize – Whiting Forest of Dow Gardens Canopy Walk
The Whiting Forest of Dow Gardens Canopy Walk project, located in Midland, Michigan, was detailed by ADCO Detailing, Inc.
Whiting Forest of Dow Gardens features 54 acres of woodlands, ponds, apple orchard, meadows, and streams. The forest's Canopy Walk is the nation's longest at 1,400-feet long. It soars up to 40 feet above the ground and consists of 3 arms, each ending at a unique viewing platform, including views of a forest pond from 25 feet above. There are even cargo netting bridges that will take you to steel and wooden pods to sit and relax and enjoy the views. The entire canopy walk wraps around the existing trees that could not be disturbed, making erection a challenge. The Alden B. Dow-designed Whiting home now welcomes guests as a Visitor Center.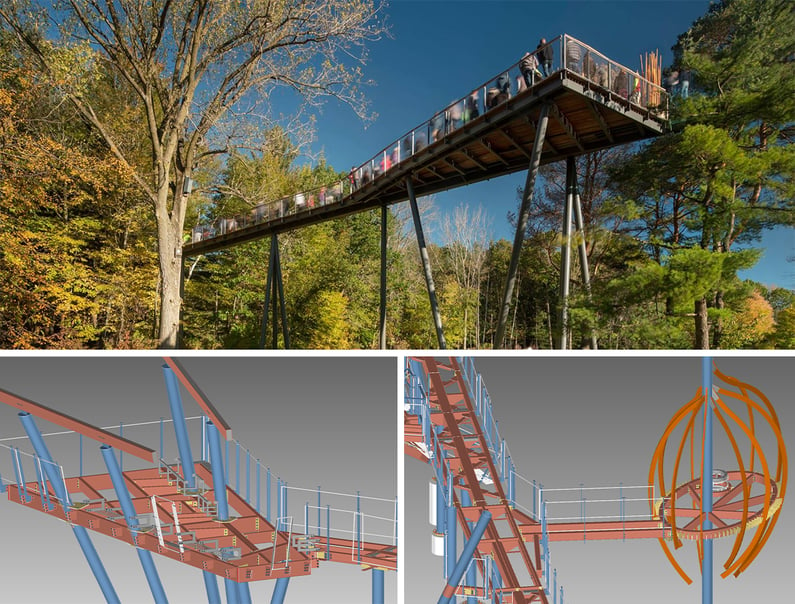 Second Place – Vanderbilt University Residential College A
The Vanderbilt University Residential College A project, located Nashville, Tennessee, was detailed by BV Detailing & Design, Inc.
Vanderbilt is investing $600 million in constructing four new residential colleges with a scheduled completion by 2023. Residential College "A"—now named the Nicholas S. Zeppos College and West End Tower—is the second building in this series and is a prominent landmark in Nashville. The East Tower can be seen from many vantage points about the city.
This was a very challenging project with concrete embeds, stone and brick supports, and hip and valley roof steel. Many problems were solved early by close coordination with the trades and designers. BV noted SDS2 as a large factor in the project's success.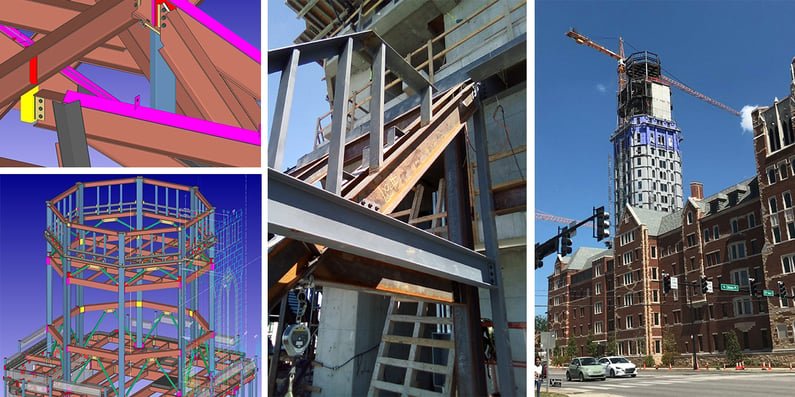 Industrial
Grand Prize – BWL Energy Park
The BWL Energy Park project, located in Lansing, Michigan, is a 250-mw natural gas fired power facility, built to replace the old coal fired unit. The 500-ton project was detailed by Universal Detailing, Inc.
Detailing was closely coordinated with the client's detailers, pre-engineered structures, and contractor-installed anchors. SDS2 handrail members were used in mass quantity, as well as multiple stairs, ladders, and elevator towers. The project's engineer helped fabrication and minimized Universal's connection design work by providing many SDS/2-friendly connections. Because of SDS2 improvements, Universal was able to make on-the-fly changes to the model, allowing minimal work to be done on the 2D details.
The biggest success with the BWL project occurred in the fabrication and shop assembly of large, four-sided trestles which expedited erection. Universal provided the shop a 3D drawing of each trestle, as well as the 2D detail sheets, plans, and elevations, with all supporting members. From there, the shop was able to fabricate each member, assemble the entire 40+ feet trestles, then ship the entire unit.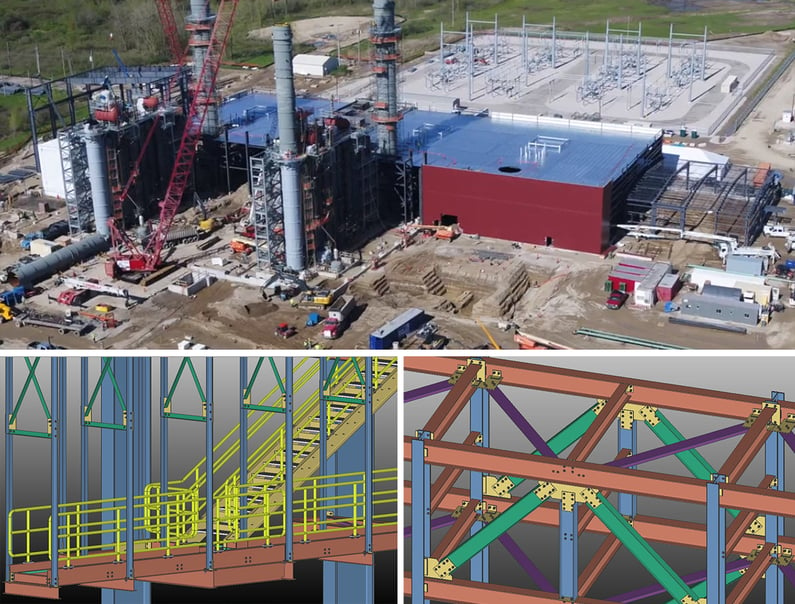 Second Place – Paper Machine Hall
The Paper Machine Hall project, located in Kalamazoo, Michigan, was detailed by Merrill Steel.
The hall will support operations of a brand new, state-of-the-art coated recycle board machine. The North side of the structure consists of a main machine runway including crane columns, crane girders, roof trusses, and an operating floor along a poured-in-place concrete machine track. The South consists of an operating floor, equipment floor, and stick-built roof. As this project is a design/ build, several components of SDS2 were used to track changes, material ordering status, and approval/ fabrication dates. Tools such as model notes and member category status were used to provide key information to the project team. As the standard beam-to-column and beam-to-beam connections were provided from the EOR, Merrill Steel was able to quickly develop user-defined connections to cover all framing conditions and maximize modeling efficiency.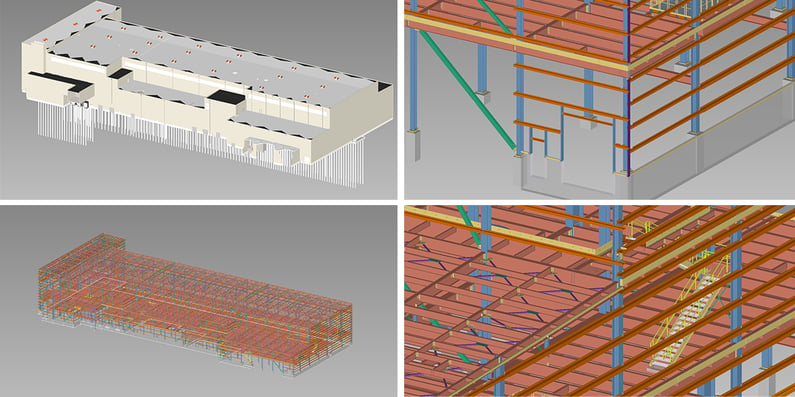 Customer's Choice
Gateway to Space Building Number M6-0307
The Gateway to Space Building Number: M6-0307 project, located at the Kennedy Space Center in Florida, was detailed by Arteras Inc.
This challenging project, which is approximately 780 tons consisting of structural and miscellaneous steel along with ornamental steel, had a tight schedule and uncommon curved geometry. Arteras engineers designed all the connections for this complicated and unique structure.
The deliverables included:
Approximately 1780 structural steel shop drawings
Over 203 miscellaneous steel shop drawings
Approximately 84 erection drawings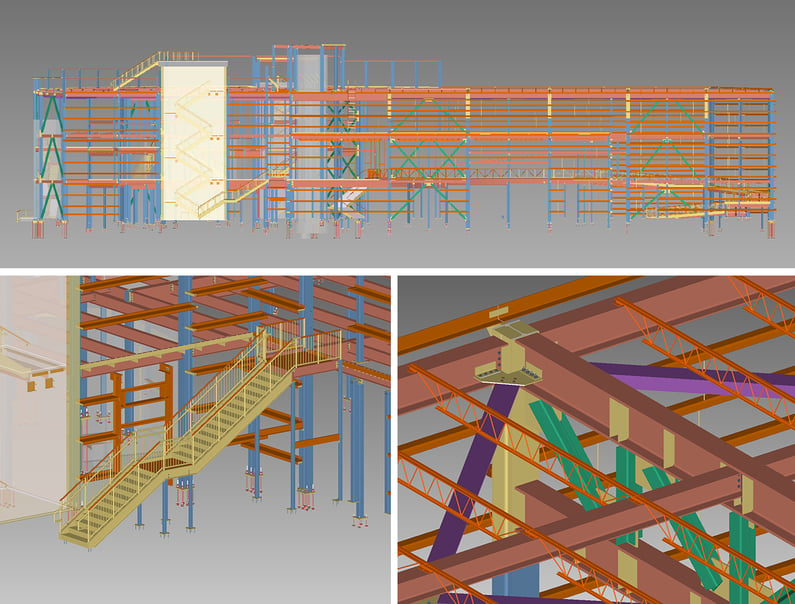 Additional Customer's Choice Finalists
Congratulations to the finalists and winners on their success! If you'd like to see your project up here next year, start gathering your best work. Submissions for the 2021 Solid Steel Awards currently open. The submission deadline is July 9, and the winners will be recognized at
SDS2 Summit 2021, taking place September 1-3 at St. Pete Beach, Florida.