The world of BIM continues to unlock greater efficiency, accuracy, cost-savings, and a host of other benefits for the AEC industry. Unfortunately, it also continues to be largely under-utilized, especially by professionals filling niche roles in the construction process, such as steel erectors.
While engineers, fabricators, and detailers often work together with 3D BIM data to make more efficient decisions for design and fabrication, any missteps or oversights they make get passed on to erectors at an exponentially higher cost. Meanwhile, many erectors are still reliant upon 2D drawings to make decisions in the field, not realizing the data they can leverage simply by asking for the 3D steel model from the project's fabricator or detailer.
In this article, we'll look at some of the reasons why erectors should always ask to access the structural steel model and what they can do with 3D tools to improve their project outcomes.
Influence design decisions
The AISC (American Institute of Steel Construction) has long advocated for early fabricator involvement in steel projects and have proven unequivocally that utilizing the fabricator's practical expertise during the schematic design phase consistently reduces the costs and timelines of steel projects.
The same goes for erectors. Working directly with detailers and fabricators as early in the project as possible, erectors can help make decisions on things like steel connections to improve project outcomes in the field. Working within the steel model gives erectors the advantage of visualizing and interacting with connections, geometry, and critical lifts in 3D, making it easier to identify clashes or safety issues and propose more efficient solutions.
A recent article in Connector magazine, a quarterly publication by the Steel Erector's Association of America, highlights this point in great detail and emphasizes the importance of collaboration between the erector and detailer. Proper sequencing, planning splices for girders that exceed lift capacity, incorporating erector aids, and designing erector-friendly connections are just a few examples given of how erector involvement can improve outcomes and reduce delays in the field. (For more, read the article online: Asking the Right Detailing Questions, Connector – Summer 2023, p. 14.)
Manage and track material deliveries
Although it is the fabricator's responsibility to prepare steel for shipment and delivery to the construction site, erectors are responsible for offloading steel safely, managing laydown areas, and locating specific members at the right time to execute erection plans. Today's technology makes it easy for fabricators to track material from the model, through production, and to the site—but that doesn't guarantee it will arrive to the site in an organized fashion, with consideration for balanced loads that are safe for offloading.
For that, SDS2 offers a virtual load planning software that accepts IFC models from all standard detailing software and allows users to plan balanced trailer loads and produce load lists and 3D load maps. It is most often used by fabricators to optimize loads and loading time, but erectors can benefit from this BIM application just as much if the project's fabricator is willing to collaborate and utilize tools to benefit the whole project.
For project sites with ample laydown areas, you can likely get by without precise planning and delivery. But tools like SDS2 Load Planning can make or break a project in tight city quarters, where the laydown area is minimal—if there is a laydown area at all.
Cooper Steel, a Tennessee-based company that offers both fabrication and erection services, found SDS2's BIM tools for load planning and site planning indispensable when coordinating a project on an active college campus in downtown Nashville.
"Instead of having stuff pile up at the job site," said Cooper Steel's Michael Tomlin, "we chose to find a better way to get the material there, so the erector could find it easier and to prevent injuries." (For more, check out our on-demand webinar, Get Ahead of Schedule with Pre-Erection Planning Tools).
Plan site logistics
Once the steel begins to arrive on site, the erector's real work starts. Steel erectors must be masters in coordination and organization. They have to know precisely where to place cranes, when and how to lift each beam and assembly and in what order, how to maneuver workers safely to bolt and weld connections into place, and more. Any errors or inefficiencies can have a cascading effect on the project schedule, and there is no making up for the lost hours or days of work that might result.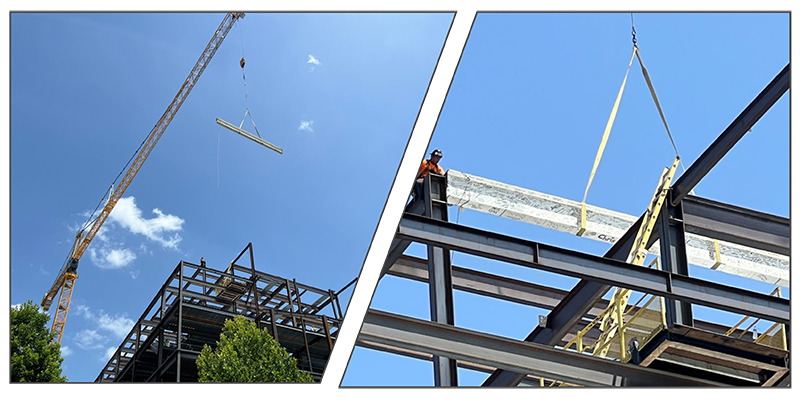 Erection site photos courtesy of Cooper Steel. To see the full project story, view our on-demand webinar
Get Ahead of Schedule with Pre-Erection Planning Tools →
---
Accurate data and precise calculations are critical to coordinating all of these logistics, and that is where BIM excels. In addition to serving as a central, visual database for project information, many BIM-powered tools provide some level of automation so users can spend less time on repetitive tasks, detect errors, and quickly calculate optimal decisions.
Fabricators use the steel BIM model to inform and automate everything from inventory management to shop routing and feeding their CNC machines. Steel erectors can use the same model to make better decisions for their field operations—and to make those decisions faster and with less likelihood of error. For example, with SDS2 Site Planning, erectors can:
Visualize crane placement and reach to exact specifications
Automatically run checks for liftability, crane path, and erection sequencing
Effectively plan critical lifts and calculate center of mass


Enhance project communication
No matter how you as an erector may choose to implement BIM tools to improve your operations, the most critical benefit is always going to be project communication.
In addition to leveraging some of the pre-erection planning tools covered above, access to the steel model also makes it easier for erectors to create accurate reports and work packages to share with stakeholders and team members.
For example, erectors can automatically generate reports from the model such as heaviest member, pick lists, critical lifts, field bolts, and point-to-point reports. Some BIM solutions, including SDS2, offer color-coding options where erectors can set fabrication, shipping, and erection statuses to visually track and update progress. Instead of relying on drawings, they can create interactive 3D PDFs of complex connection joints or other model geometry to be easily accessed by anyone, from the project owner to the teams in the field.
"It's like a playbook that the general contractor can see, and also our sub-erectors," Tomlin said regarding Cooper Steel's pre-erection work packages. "You can eliminate a lot of questions, and they have all the information right there in front of them."
As a steel erector, you need to be able to clearly communicate your limitations, concerns, and needs to the general contractor, fabricator, engineer, and other stakeholders as early in the project as possible. By accessing the project's steel BIM data, you can make sure you're on the same page as other stakeholders with accurate and timely information.
No one else knows the realities of fieldwork better than you, and no one else is going to advocate for your team, your time, or your bottom line. Take advantage of all the BIM data and tools available to influence project outcomes in your favor.
---