Steel detailing software is the foundation for BIM projects in structural steel, whether you are plugging into a true BIM workflow and coordinating model data with other trades (sometimes referred to as macro BIM) or managing inventory and production within your own shop (micro BIM).
No matter the size and scope of your BIM utilization, it's critical to start with a steel detailing solution that gives you the most valuable data—or the best "information"—for your building information model.
Unlike any other steel detailing solution on the market, SDS2 by ALLPLAN provides all-in-one structural and connection design, supplying better information to your BIM pipeline right out of the box, which can have an exponential impact on cost and schedule over the course of a project.
Below, we'll look at five ways you can use SDS2 to improve your BIM projects in structural steel.
1. Get built-in connection design intelligence
The core benefit SDS2 can bring to your BIM projects is built-in intelligent connection design. As you model, SDS2 considers the entire 360-degree framing condition, as well as your fabrication preferences, and delivers steel connections that:
adhere to AISC and CISC codes for structural integrity
are customizable and optimized for fabrication
detect and correct for potential clashes in the field
automatically update as the model changes
Because steel connections are so important to the timeline and overall cost of both fabrication and erection, the earlier you have this information, the more value it can add to your project over time—as you'll see in the next few sections.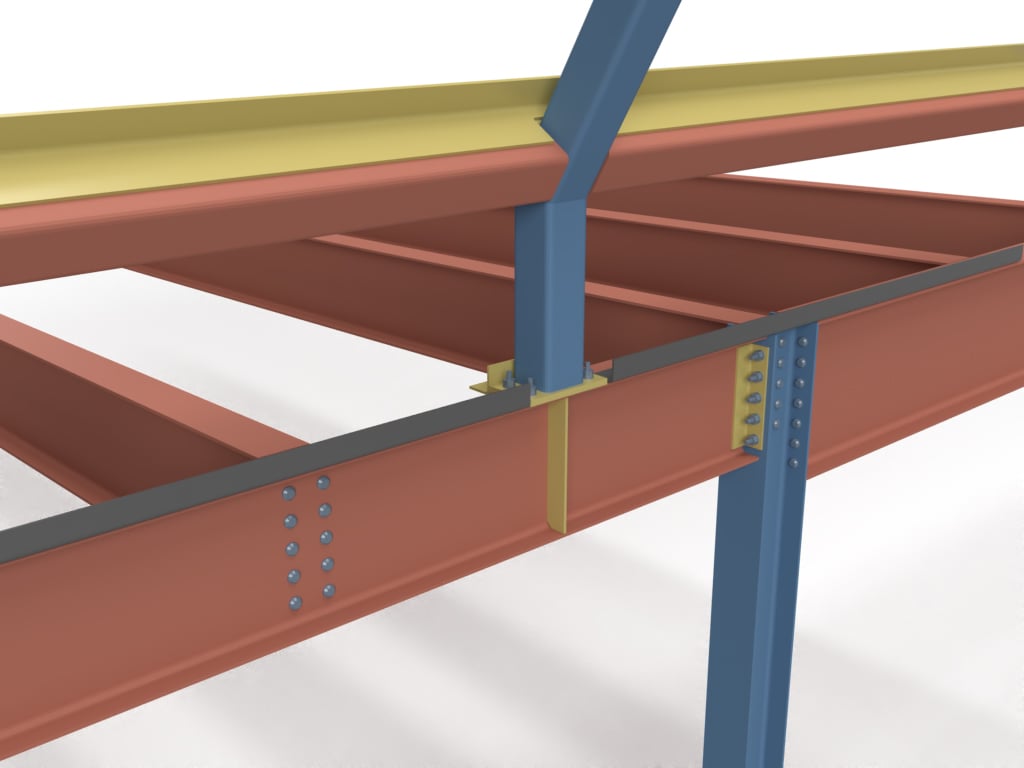 SDS2 by ALLPLAN builds connections as you model, providing better "information" for your BIM projects
2. Bid smarter and predict project outcomes
Managing costs and profits begins before you start or even secure a project. First, you must produce an estimate on labor, time, and costs. Accuracy in your estimates is critical to competitively bidding and winning key projects—not to mention keeping them profitable.
Estimodeling, or model-based estimating, helps fabricators deliver bids and material takeoffs with much higher accuracy and speed than manual methods. And estimodeling with SDS2's automated connection design can really take your bid accuracy to the next level.
SDS2 allows you to quickly and easily generate basic connections for the entire structure. With slick integrations from RISA Structures and Autodesk Revit, this may be as easy as importing a rough structural model from the engineer.
Customizable fabrication settings make it easy to run quick cost comparisons for a more competitive bid. SDS2 can also help you identify potential issues and problems before they arise. With status display views, you can visually identify high cost and high labor operations in the model, such as beam web doublers, non-square cut ends, or failed connections.
You can use SDS2 on its own for a quick cost estimation and material takeoff, or you can integrate with other BIM solutions and shop management software like Tekla PowerFab and STRUMIS. To learn more about estimating with SDS2, check out this blog article→
3. Use fabricator-centric intelligence to lower project costs
The AISC has long advocated for early fabricator involvement in steel projects, which has consistently proven to shorten the schedule on steel package delivery by 25 percent and more. According to the AISC, engaging fabricators' expertise helps structural engineers produce a more comprehensive steel design.
That's what makes SDS2's automation so powerful. Fabrication intelligence is built in, and the connections, rather than being an afterthought, can help you create a more buildable project from the start.
For example, something as simple as knowing gusset plate sizes early in the project can help you avoid clashes with other materials and trades. SDS2 gives you that right out of the box, building a connection based on the given load requirements and framing conditions.
SDS2 also makes it easy to consider alternative structural designs, instead of falling back on the old "lighter is better" adage. Fabricators know that lighter members more likely lead to extra plates, welds, bolts, and bracing—all of which adds to the labor cost and time on a project. SDS2's proprietary design engine knows it, too, and can help you deliver smarter designs.
4. Sync with fabrication software for better shop management
SDS2's customized design automation caters to the strengths of your shop, whether you are running a manual operation, automating production with the industry's most powerful CNC equipment, or some combination of both.
The fabrication settings in SDS2 are designed to minimize your ongoing model management and make it easy to apply connections that work best for your shop. PVS Structures, a top industrial fabricator in the US, will even change the SDS2 project setup depending on their shop schedule, so they can utilize their manual bays and maximize production with their Zeman robotic welder.
Additionally, simple setup options like standardized materials, auto standard connections, and expanded bolt spacing can minimize and streamline labor for faster and more cost-effective fabrication.
SDS2 integrates with the industry's major MIS, MRP, and tracking systems software, as well as automated shop equipment, so you can utilize the model for all your fabrication needs.
5. Shorten project timelines with pre-erection planning tools
While SDS2 is best known for our steel detailing software, we also offer 3D modeling tools for material handling after fabrication—a critical piece of the construction process that is often left out of BIM considerations.
SDS2 Load Planning is a novel product that is quickly gaining traction around the world. It can be used with or without other SDS2 products, allowing you to transform any IFC 2x3 building model into clear, searchable 3D and 2D trailer models useful for both loading in the shop and unloading at the site. Fabricators are using it to optimize trailer loads, minimize material handling, and even schedule their production to align with erection sequences or critical path activities. It syncs directly with Tekla PowerFab for smooth data transfer and more complete fabrication planning.
SDS2 Site Planning can help determine crane placement, generate critical lift reports, and visualize the model for erection planning.
Both products can be used to create documentation or otherwise communicate with stakeholders like the GC for better project planning and coordination, helping your projects run more smoothly and get done faster.
As an OPEN BIM software solution, SDS2 supports universal file types and integrates with a growing list of industry partners in software, equipment, and more. It can fit seamlessly into any BIM ecosystem you may be using and bring a higher level of accuracy and intelligence into your project.
To learn more about how SDS2 can fit into your integrated BIM workflows, request a demo today →