Times Square, Universal Studios, an NFL stadium—this year's lineup of SDS2's Solid Steel Award winners features some of the most iconic and noteworthy structures we've ever seen.
From architectural marvels to unique industrial facilities, the work being done by SDS2 detailers around the world never fails to impress and inspire, and the Solid Steel Awards are the perfect place to showcase our users' talents and dedication to the craft of steel detailing.
Here's a closer look at this year's impressive winners.
CUSTOMER'S CHOICE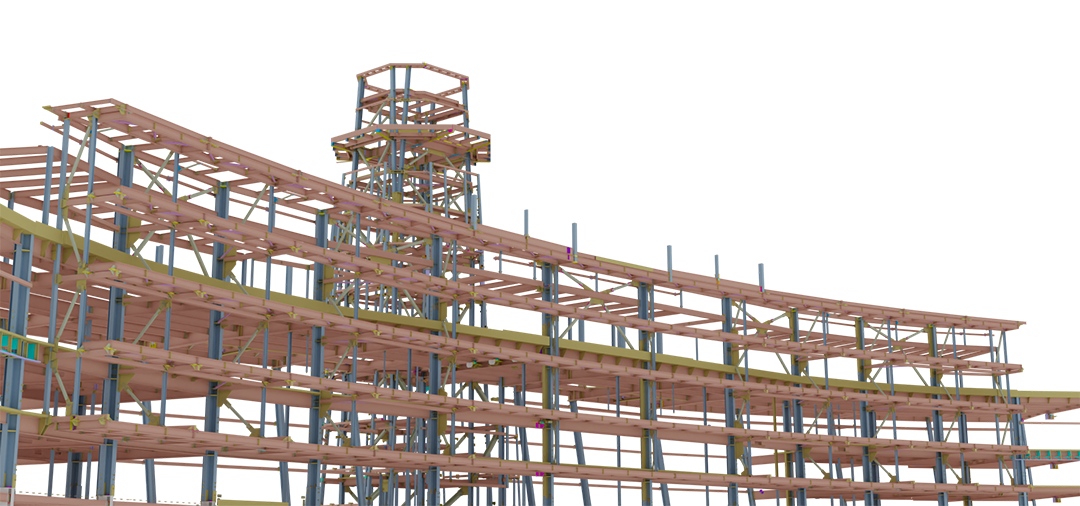 Gillette Stadium is the iconic home of the New England Patriots football team. A major renovation of the north end zone featured an enhanced 218-foot lighthouse, a 22,000-square-foot high-def video board, and additional amenities. The project came in at 3,000 tons, and structural challenges were numerous with multiple types of truss framing connections at cruciform columns, heavy connections at vertical and horizontal brace locations, and coordination of precast elements on sloped beams and columns.
The lighthouse feature was constructed in segments, each detailed as shop-assembled frames, with Y-shaped and tapered columns. Because a significant portion of the structure is visible to the public, special attention was given to ensuring correct bolt orientations in both erection and shop drawings, as well as to the faying surface directions for SC bolt conditions.
COMMERCIAL - SMALL TONNAGE
GRAND PRIZE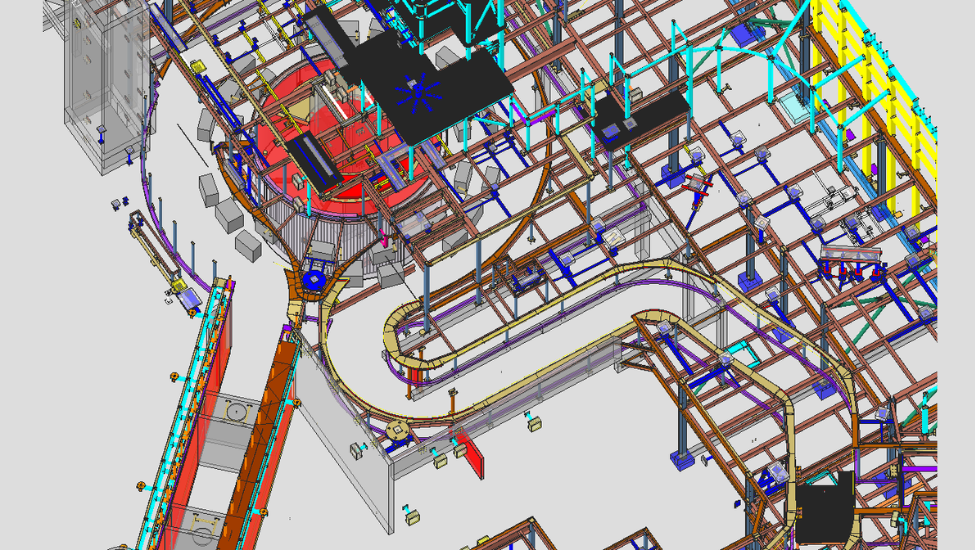 This Super Nintendo themed installment at Universal Studios in Orlando, Florida, involved many complicated structures, including curved framing at the perimeter, a waving bridge, circular floor and platform, and support for animated figures of popular video game characters. Connections for the circular floor were quite complex, executed using a combination of SDS2 intelligence and hand designs. The entire project was completed on an extremely accelerated timeline, as the team was also asked to provide an ABM within 10-12 working days after being awarded the project. Detailing took place over a similarly tight timeline, with all drawings submitted for approval in just 13 weeks.
SECOND PLACE
One Times Square is a 25-story, 363-foot-high, 118-year-old home of the famous New Year's Eve ball drop. Today, it's receiving a major renovation to become a modern-day visitor's center. The project featured a viewing deck made of round HSS trusses in the form of a triangle used to support a glass floor, where visitors will get an elevated view of Times Square and a close-up look at the New Year's ball. All connections of the view deck truss were unique. With all the existing steel on this project, many connections had to be roughed in to allow a first round of design, which later got changed due to field surveys. Since floors had to be erected before the tower crane was brought in, beams had to be shorter than 16 feet to fit in the service elevator and then bolted together to allow the beam to span the length required, which resulted in lots of end plate splices.
COMMERCIAL - LARGE TONNAGE
GRAND PRIZE
Fairfield University Convocation Center / Leo D. Mahoney Arena by Beauce Atlas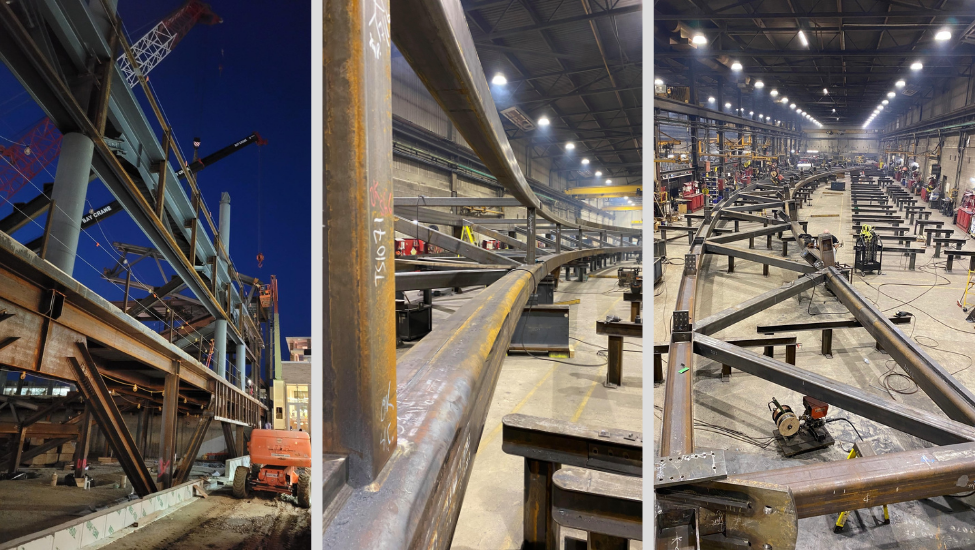 An old alumni hall was replaced by an 85,000 square-foot multi-use venue and sports arena holding 3,500 seats and weighing in at 1,356 tons of steel. The roof was the biggest challenge and highlight of the project. It was cambered and braced in both directions and featured multiple W-beamed truss frames more than 130 feet long. A majority of the connections were designed by SDS2, allowing the detailers to focus on the challenging connections, some of which had as many as eight members joining at a single node. They also faced hinged connections, something rare for steel frames this size.
SECOND PLACE
The Ohio State University Wexner Medical Center by Ovation Services LLC
This 1.9 million-square-foot inpatient hospital is the largest single facilities project ever undertaken at the Ohio State University. It required approximately 10,000 tons of steel and featured a variety of challenging features, including cupola framing, kink columns, scroll cantilever with a cambered tip, lantern steel at the roof and a lantern structure throughout the building, a sawtooth structure at the perimeter of all floors, curtain wall connection supports, cambered trusses, celio framing, and a bridge connecting new and existing structures. Most of the connections were developed from SDS2, though some around irregular framing features required extensive coordination with the customer.
INDUSTRIAL
GRAND PRIZE
Dolphin Fenders by LINQ LLC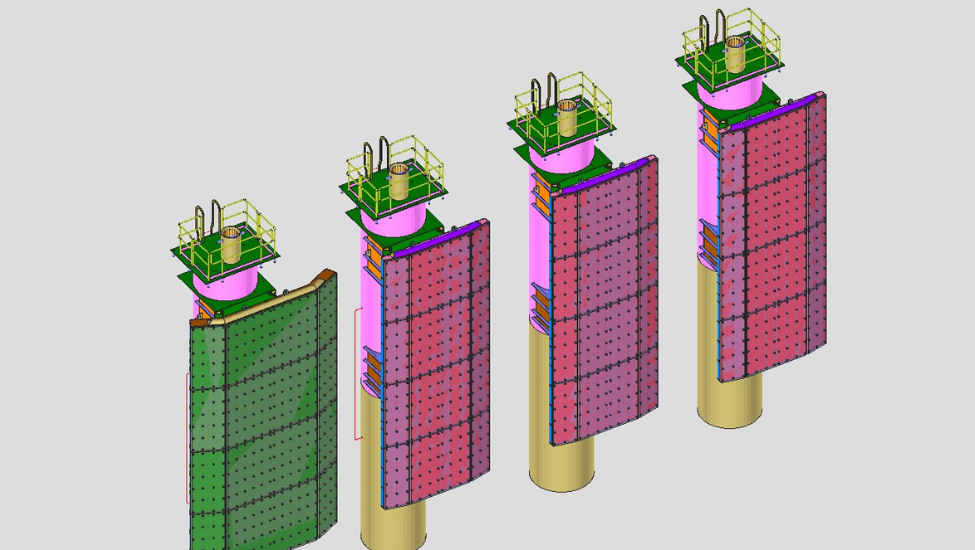 This marine structure, utilized in dock operations, consists of modular 'fenders' that absorb impact energy, highlighting SDS2's modeling versatility. The project involved intricate plate assemblies with unique features like 'weep holes' to facilitate pressure testing, curved fender profiles, an underwater ladder designed to eliminate welding and touch-up coatings and minimize long-term maintenance, and connections with uplift chains that needed to withstand dynamic underwater forces and vibrations. Given the marine environment, ensuring adequate corrosion protection was crucial, and applying coatings, surface preparations, and other protective measures added complexity to the detailing. As the project progressed, SDS2's iterative design features allowed the detailers to explore design alternatives and assess their impact efficiently. This capability was particularly valuable when evaluating various ladder attachment methods, aiding in decision-making, and optimizing the connection's design.
SECOND PLACE
Balcones L' Hoist - Crusher System Surge Bin by Cronus Steel
This mine expansion involved the construction of a 330-ton chute support framing system. This system included robust connections and multiple chutes to facilitate efficient operations. Notably, the cantilevered section of the framework was skillfully designed to create a visually appealing walkway encircling the surge bin. This was achieved through the strategic placement of skewed supports, enhancing both functionality and aesthetics. SDS2 automated a significant portion of the shear connections, expediting the design process. Additional SDS2 tools for plate work, stair and handrail items, and reference drawings were also implemented to deliver this functional and visually appealing industrial structure efficiently and accurately.
FINALISTS
Congratulations to all winners and finalists, along with all the other outstanding contenders who submitted projects. We can't wait to see what you submit next year!
---
About the SDS2 Solid Steel Awards
The SDS2 Solid Steel Awards showcase the most creative, technical, and impressive steel detailing projects being completed in SDS2 from around the world in all sectors of structural steel. SDS2 users submit their work in one of three categories: Commercial - Large Tonnage; Commercial - Small Tonnage; and Industrial. Finalists and winners in each category are selected anonymously by a panel of SDS2 judges, while the ultimate Customer's Choice winner is chosen by public vote.
To learn more about the process, submission criteria, and more, visit sds2.com/solid-steel-awards.