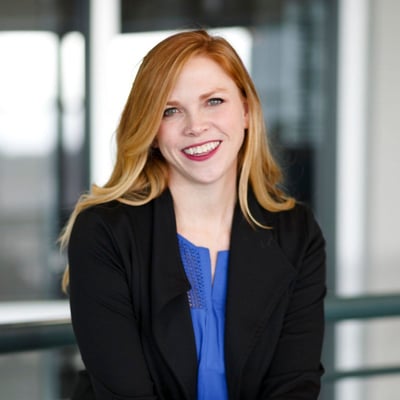 When Michelle McCarthy first stepped foot in the SDS2 office in 2005, she knew nothing about the world of steel detailing and fabrication, its software, or its people. Armed with a fresh bachelor's degree in advertising, she came to interview for a marketing position that, it turned out, was no longer available.
There was, however, an opening on the sales team that she could interview for, if she was interested.
"I was there, I was dressed up. I figured it would be good practice before finding my real job," McCarthy said. "Almost twenty years later, I'm still here."
Throughout her career, McCarthy has helped SDS2 grow through many of the company's biggest changes and transformations, from joining the global network of the Nemetschek Group in 2016 to merging with our sister company, ALLPLAN, in 2021.
One thing that hasn't changed is McCarthy's drive to learn and tackle new challenges, and her passion for the steel industry and community.
Today, she serves as the president of SDS2 and regional manager for ALLPLAN in the Americas, and she's setting the foundations for our company's and customers' long-term success in a rapidly evolving industry.
Finding her niche
McCarthy grew up as an All-American farm girl in rural Nebraska. She spent her childhood riding bikes on country roads and her teenage years working an assortment of hard labor jobs like laying irrigation pipe for her family's fields and detasseling corn. In high school, she was all about sports.
"In small towns, you go out for everything," she said. She carried her love for sports with her to the University of Nebraska-Lincoln, where she planned to earn a degree in athletic training. A year into the program, she knew it wasn't right for her, switched to communications, and then, finally, advertising.
"I had all of these classes from different majors," she said, "and just kind of figured out what degree I could make out of it."
While her college career was marked by many false starts, she took off running when she found SDS2. She accepted the position in sales for the same reason any recent college grad takes a job: student loans were looming, and SDS2 offered a steady paycheck.
"I didn't think it would be a long-term thing," McCarthy said. "I didn't know what steel detailing was at all. But I am one of those people who likes putting together IKEA bookcases. I like seeing how things come together, and I think within six months, I was turning into a steel nerd."
Learning the trade
Being 23 and female, McCarthy was warned when she was hired that she'd have to work harder than her male counterparts to be successful in the industry.
"I was probably the only female sales rep out there for steel detailing software at the time," McCarthy said. "Between that and coming in with no detailing experience, I had to work hard to build my credibility. But that didn't scare me."
McCarthy thrives on learning new things and meeting new people, and that is precisely what she did for many years at SDS2. Before video conferencing became so commonplace, SDS2 took their sales demos directly to potential customers. McCarthy traveled all over the country demonstrating SDS2's capabilities, often learning as much as she had to teach.
"I've had customers teach me so much because I'd just ask. That's how I got through demos," McCarthy said. "A customer would ask me to do a curved lintel, and I would just have to say, 'I don't know what that is, but if you draw it for me, I'm sure I can model it.'"
At the same time she was learning the trade, she was also—even more importantly—getting to know its people.
"I was building relationships, I was showing them our software, and I loved seeing it click for them how SDS2 could help their business," McCarthy said. "And then, over the years, I get to watch their businesses grow, and that's really fulfilling for me."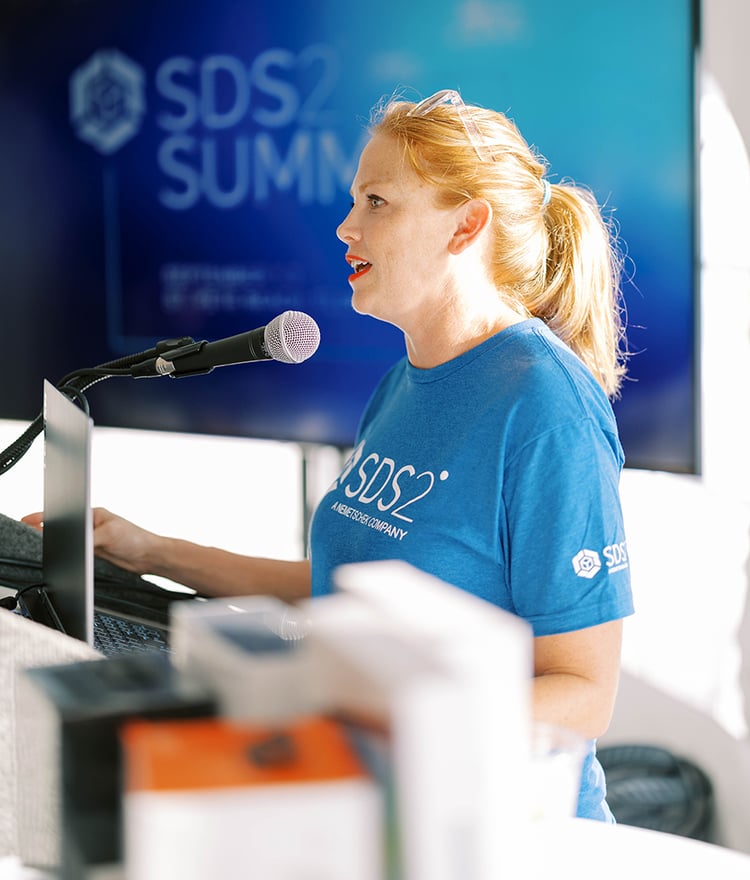 Michelle McCarthy speaking at SDS2 Summit 2021
The only constant is change
McCarthy stayed in her role until 2019, when she left SDS2 to lead a sales team for a startup company in the MEP arena. Four months later, she was back.
"I realized that I just like steel. These are my people," she said.
She returned to a whirlwind of change, starting with a different role in overseeing various sales and marketing initiatives as SDS2 continued to grow under a new CEO and the direction of the Nemetschek Group. Then came the COVID pandemic in 2020, and in 2021, the merger with SDS2's sister company ALLPLAN, which came with a new opportunity for McCarthy.
Today, she serves as ALLPLAN regional manager, overseeing all business operations for both SDS2 and ALLPLAN in North and South America.
As anyone would expect with so many changes in such a short time, there has been a fair share of growing pains, but McCarthy takes heart from a mantra she hears often in her yoga class: nothing is permanent.
"When things are good, you have to be ready because it's not permanent," she said. "And when things are tough—that's not permanent either."
Through it all, McCarthy has done what she does best: learn new things and meet new people. McCarthy's new role has her in regular contact with ALLPLAN's teams in Germany and around the world, and she is learning more about other construction trades, from bridges to precast concrete.
"One of Michelle's strongest qualities is her openness," said Detlef Schneider, CEO of ALLPLAN. "She is open-minded, she's willing to step up and learn, and she's approachable. These are important qualities for her as a leader, especially as we continue to integrate our two companies."
"It's definitely been a trial by fire," McCarthy said. "But helping employees and customers navigate change, and learning how to navigate it myself, that's something I've come to enjoy. It can be uncomfortable, but I think that's when you grow the most."
Looking ahead
Although McCarthy no longer works directly with customers in her new role, seeing and helping them succeed is still at the heart of all she does. "Before I was delivering the software and directly influencing end users," she said. "Now I'm working to position our company to better serve our customers."
As the construction industry moves toward more integrated projects and BIM-powered workflows, she's excited for what the future has in store.
"Looking at construction and thinking about the synergy that we're building between all the products in the Nemetschek Group, there are going to be some really exciting times," McCarthy said.
In the meantime, she is grateful for the steady SDS2 user base, especially the customers who are invested in making the product better for their day-to-day productivity.
"We have a really loyal customer base, and so many stakeholders are donating their time and giving feedback on development projects because they believe in SDS2 and want to see it succeed long-term, not just for themselves, but for the entire industry," McCarthy said. "That's so inspiring to me."
While her career at SDS2 has taken McCarthy much farther than she ever imagined, she ultimately wants to be remembered for bringing more value to our customers.
"We're building the groundwork now," she said, "and we have an opportunity here over the next few years to bring SDS2 to the next evolution of what it could be."